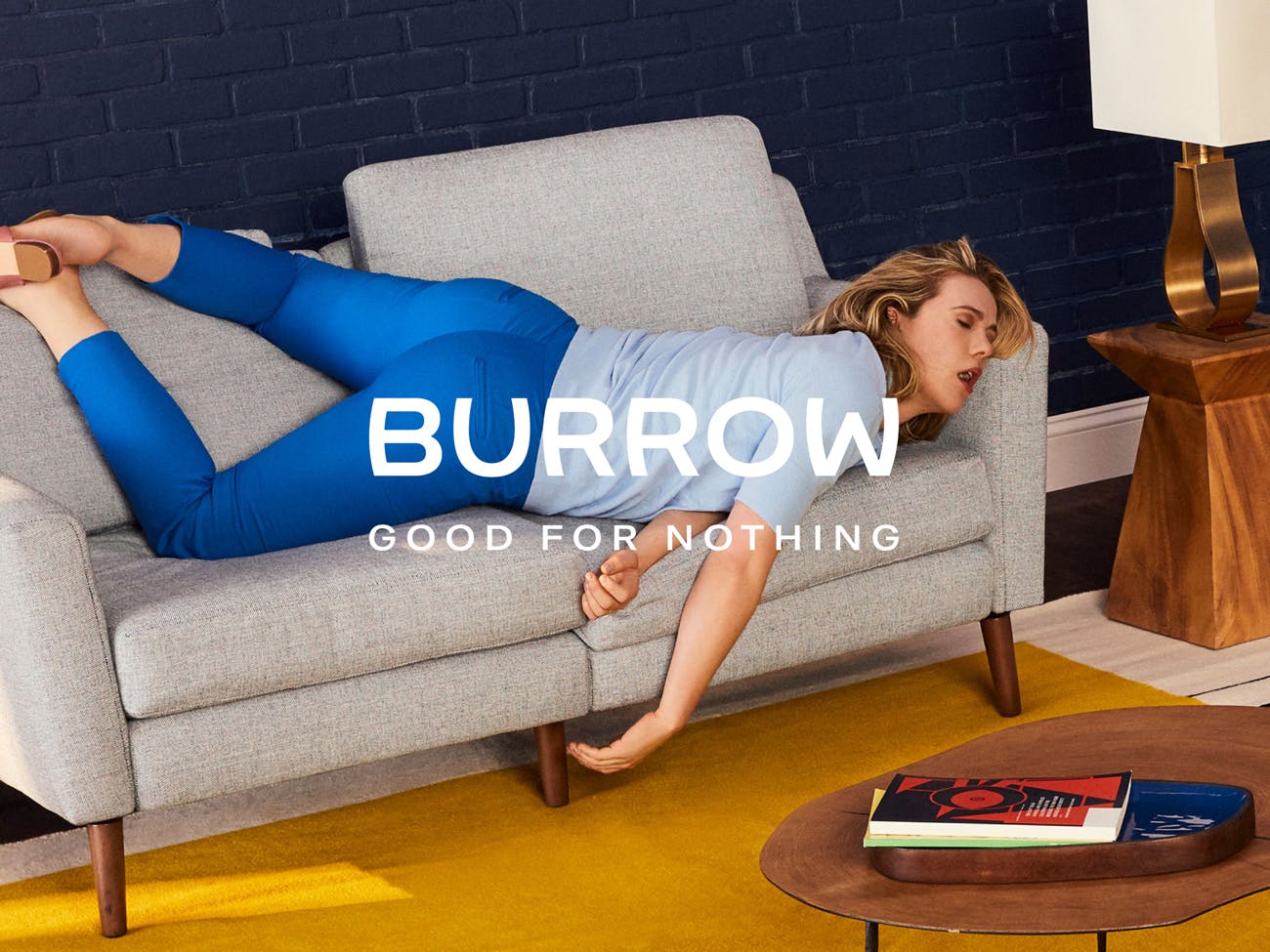 Serious about leisure
The situation
A year after we partnered with Burrow to launch its DTC sofa brand, the team returned with a new challenge. Having established its sofas as couches without compromise - easy-to-assemble, and eminently stylish -  the brand was ready to make a bigger splash, and stand for something that would make it the go-to brand for upwardly mobile millennials. 
The solution
We recognized that today's city-dwelling 25-35 year-olds are busier than ever, consumed by the Instagram-fueled ideal of always having plans. So, we created a massive integrated campaign that pushed against this trend, and elevated the importance (and validity) of doing nothing - especially on an incredibly comfortable couch. This leisurely message really resonated: in a post-transaction survey, 60% of people attributed their purchase of a Burrow sofa to the campaign.
Campaign Strategy

Campaign Concept

Broadcast

Out-of-home

Subway

Online video
Carpe Couch
We felt that "leisure" shouldn't look like pretty millennials sipping expensive beverages while looking at cool 'zines. Instead, we depicted people in the positions we all adopt when we're un-self-consciously getting comfortable — faces mushed, arms hanging, and legs splayed.
Commuting, but comfortable
As part of Burrow's OOH buy, we transformed the entire 42nd Street shuttle. Train seats were made to look like Burrow sofa cushions, so New Yorkers could relax in one of three custom car interiors: an arctic car for "chilling out," a jungle car for "hanging out," and a space-themed car for...you guessed it…"spacing out." 
"In a post-transaction survey, 60% of people attributed their purchase of a Burrow sofa to the brand's subway ads."
"I can see your future with my eyes closed"
Taking advantage of NYC's vacant storefronts, we created "The Lord of Leisure," a Zoltar-like figure who gave New Yorkers fortunes from a reclining position. Passersby simply had to text to wake him up to receive leisurely words of wisdom, and a chance to score a free Burrow couch.
Behind-the-scenes with Burrow
Take a look behind-the-scenes of our production set for Burrow with our photographer Meredith Jenks.
"As a founder, you always have a vision of how you want your company's brand to come across. It's always present in your mind but really challenging to put on paper. Red Antler's team does just that – turning a vision into something tangible and real."